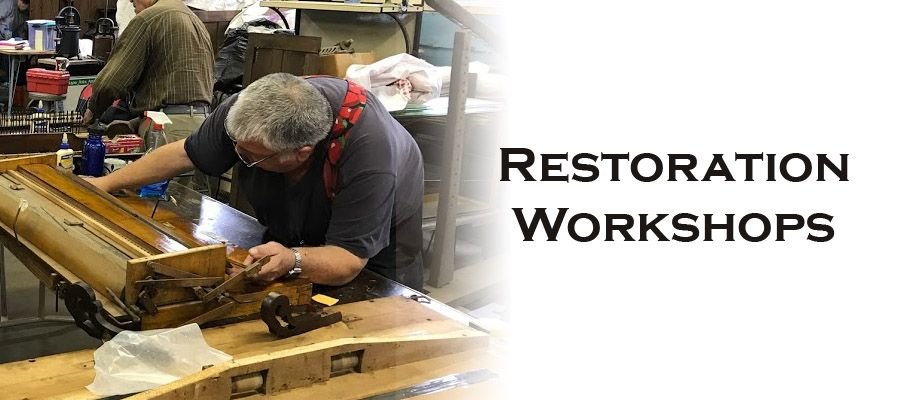 The 2019 Reed Organ Society Gathering - October 17-20, 2019
The Conklin Organ Museum, Hanover, Michigan USA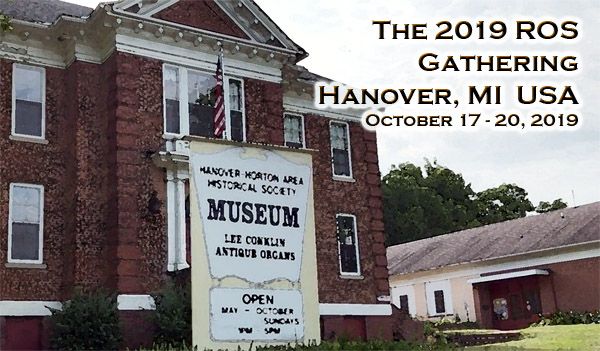 The 2019 Gathering of the Reed Organ Society will take place at the Conklin Reed Organ Museum, in Hanover, Michigan, on October 17-20. Our hosts for this event are the Hanover-Horton Area Historical Society. The theme is based on restoring reed organs - see first hand how to tune, how to restore air assemblies with new rubber cloth, and more.
Every month, restoration volunteers meet at the museum to maintain and restore this large collection of instruments. Many of these experienced restorers will be on hand, and will be happy to share their restoration experiences. There is more than reed organ restoration though - choose to play any reed organ from over 100 reed organs to play, attend reed organ concerts, tour the area and more!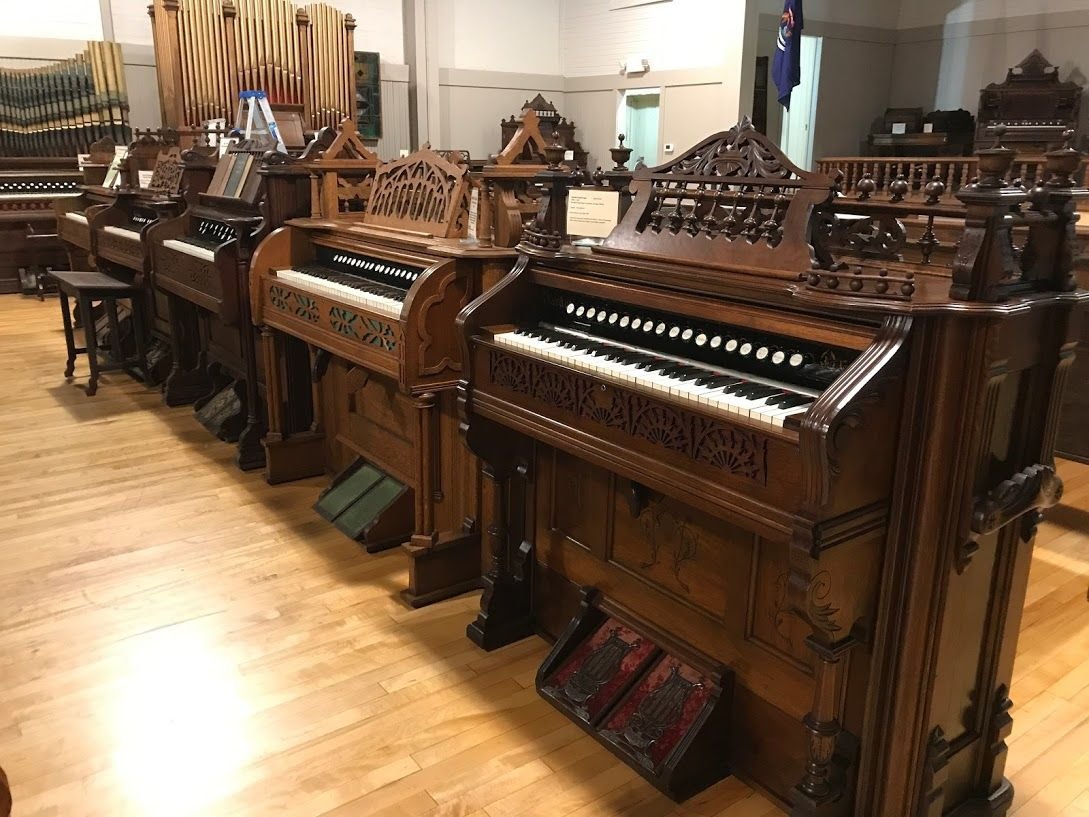 There will also be plenty of time to network with fellow reed organ enthusiasts, sharing restoration ideas, or browse the media tables for treasures, music and reading material.
Registration/Payment
Gathering fees are due with the registration. When registering online, payment can be made through PayPal (major credit cards accepted) or check/money order. If mailing in the registration, please enclose a check or money order made out to HHAHS/Event with the form. The event fees are only $135(USD) for single and $250(USD) for a couple.
Contact Information
Hanover-Horton Area Historical Society
Attn: ROS Gathering
PO Box 256
Hanover, MI 49241
(517) 563-8927
www.conklinreedorganmuseum.org
While the street address of the Conklin Organ Museum is 101 Fairview St, Hanover, MI 49241, please use the address of the Events Center 121 Tefft Street as parking is at the Heritage Park site.
Refer to the map below to locate Heritage Park.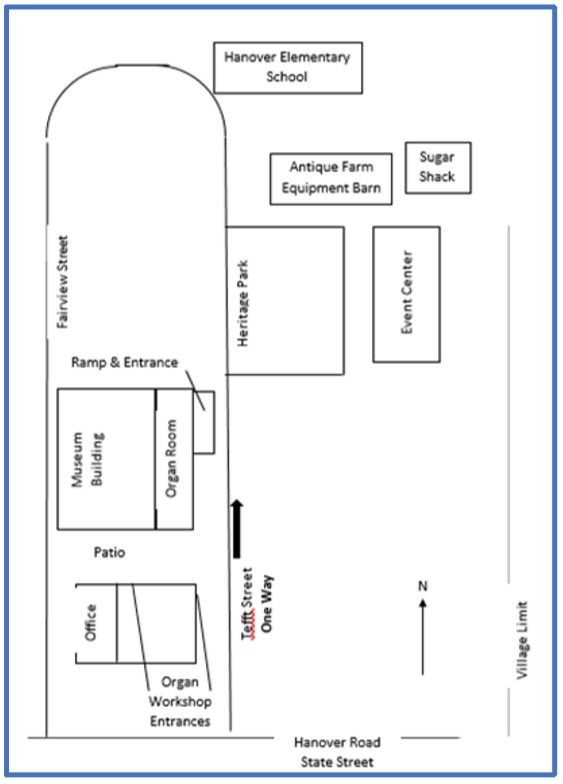 Motel Information
The Holiday Inn Express & Suites has reserved a block of 25 standard rooms with two queen beds. Mention Reed Organ Society when registering to receive the Gathering rate of $110 USD. Reservations must be made before September 17, 2019 to receive the special rate. Call the motel directly at 517-788-6400 to make reservations.
Holiday Inn Express & Suites
3506 O'Neill Dr.
Jackson, MI 49202
517-788-6400
Media/Sales and Display Area

There will be a media and sales area located at the Event Center.
Links of Interest
Guides to local Jackson County events and areas of interest are available at www.ExperienceJackson.com.You can also go to www.michigan.org and put in Marshall, Concord, Albion, or Somerset Center.
2019 ROS Gathering – Schedule of Events
Thursday, October 17, 2019




6:00 – 8:00 pm

Early Registration & Social Hour

Light refreshments will be served

Conklin Museum

Friday, October 18, 2019




8:30 am – ??

Registration

Registration Table to be left up & manned as needed

Coffee, Tea, Water available throughout the day

Event Center

9:00 am

Welcome

Event Center

9:30 am

Reed Voicing & Tuning – Casey Pratt lead

Workshop

11:00 am

Playing a Reed Organ – Rodney Jantzi

Conklin Museum

1:00 pm

Lunch – Sub Sandwich Buffet

Event Center

2:30 pm

Bellows Recovering – John Hastings

Workshop

4:00 pm

ROS Business meeting

Herrick Building Conference Room

4:00 pm – 6:00 pm

Free time to explore Museum, Vendors, Socialize, etc.

HHAHS corn maze open

6:00 pm

Buffet Supper

Event Center

7:30 pm

Hymn Histories & Hymn Sing

Open to public by donation if adequate seating

Conklin Museum

Saturday, October 19, 2019

10:00 am – 12:00 pm

Ye Olde Carriage House Museum tour

Spring Arbor

Lunch on one's own

1:30 – 3:00 pm

1st Congregational Church tour including organ

Jackson

Workshop Demos, Free Explore Time

Workshop, HHAHS Campus

6:00 pm

Banquet, Awards, General Meeting

Event Center

7:30 pm

Concert

Event Center

Sunday, October 20, 2019

Activities in Fayette, OH

2:00 pm

Concert:Michael Hendron & Pam Robison organists

Fayette Opera House