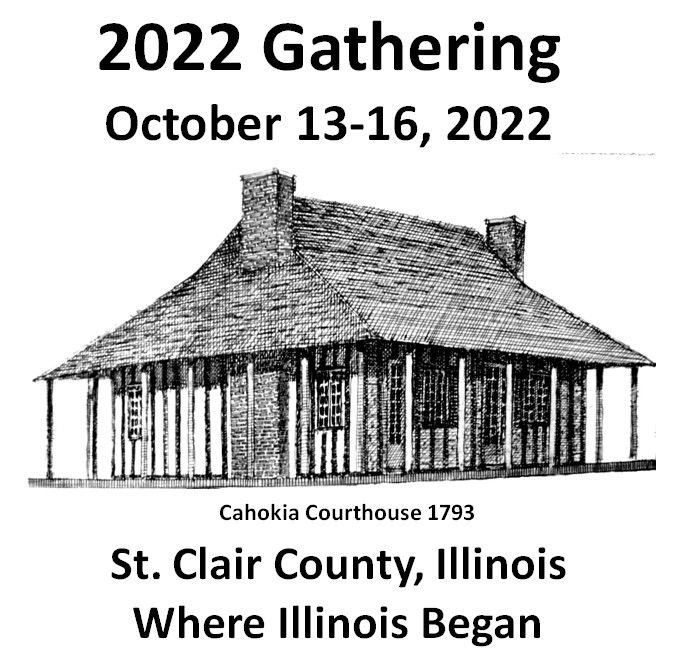 INFORMATION FOR THE
2022 REED ORGAN SOCIETY GATHERING October 13-16, 2022
St. Clair County, Illinois, USA
Registration is now open! The event fees will be $150 for single person, or $290 per couple. The deadline for registration is September 16, 2022.
If you have any questions, use the form at the bottom of this page to contact the hosts.
Residents of the USA, click the link below to register:


For International registrations, click the link below to register:

Tentative Schedule
Thursday, October 13, 2022

5:00-8:00 p.m. - Gather in McKinley Center at Union United Methodist Church 721 East Main Street, Belleville, Illinois, for snacks and fellowship and maybe early registration.
Friday, October 14, 2022
8:30 a.m. - Gather at Union UMC McKinley Center for coffee, snacks, registration, and announcements.
Announcements followed by presentations, all in McKinley Center.
9:00-9:50 - "Popular Music from the 1890s to early 1900s for the Reed Organ with Demonstrations on the Organ and Singing" by Pam and Charlie Robison
10:00-10:50 - "Reed Organ Companies in Illinois" by Nancy Varner
11:00-11:50" - A ROS Website Tour to Get the Most out of Searching, and Tools Available in the Membership Portal" by Rodney Jantzi
12:00-12:50 p.m. - Lunch in McKinley Center
1:00-1:50" - Sigfried Karg-Elert, His Music, and his Concept of the 'Art Harmonium'" by Mark Herr
2:00-2:50 - "The Accordion is a Free-Reed Instrument TOO!" by Mardy Eisloeffel
4:00-5:00 - "The Fort Wayne Organ Company and the Packard Legacy" by Charlie Robison
5:30 - Supper in McKinley Center.
6:30 - Tour of Union United Methodist Church and pipe organ.
7:00 - Informal recitals in McKinley Center on "performers' choice" organs.
Saturday, October 15, 2022
8:30-10:30 a.m. - Meet at St. Peter's Cathedral at 200 West Harrison Street (the largest in Illinois) where people will have an opportunity to hear & play the newly-rebuilt 3-manual pipe organ.
11:00-12:15 - Tour of Calvary Chapel of St. Clair County, 215 South Jackson Street in Belleville.This is home to a ca. 1910 Hinners pipe organ, made in Pekin, Illinois.
12:30 p.m. - Lunch at the Turkey Hill Grange hall, 1375 East Illinois Route 15, Belleville, IL
2:00 - Hymn Sing at Espenschied Chapel, 317 North County Road, Mascoutah, Illinois
3:00 - Tour of Roger Grodeon's organ collection at his home, 214 West Patterson, Mascoutah, IL, and tour of the 3-story Mascoutah Historical Museum, 306 West Main, Mascoutah.
6:00 - Banquet in McKinley Center, Union UM Church, followed by the ROS membership meeting.
Sunday, October 16, 2022
Possible morning activities for you may include traditional worship at Union United Methodist Church sanctuary at 9:00 a.m. or contemporary worship in the Union UM Chapel at 11:15 a.m., or any other local church of your choosing.
Lunch will be on your own, with a list of local restaurants provided.
2:00 p.m. - Formal ROS concert in the Union UM Church sanctuary.
A reception will follow in McKinley Center.
Media Table: Members may bring items for sale to the media table in the McKinley Center. Items must be labeled with the seller's name and price. The table will be open during breaks on Thursday, Friday, & Saturday. All unsold items need to be picked up by Saturday evening. Contact Charlie Robison with questions. Plenty of space is available!
Hotel Recommendations near Belleville, IL

This is a partial listing of highly reviewed hotels in Fairview Heights and Shiloh/O'Fallon, Illinois.Other places with lower prices are available on the internet, as well as Airbnb's near Downtown Belleville.Be sure to look at reviews of the hotels to see that they fit your price level and comfort needs. The Holiday Inn-Fairview Heights will be designated the preferred HOME hotel. Home hotel will hold 10 rooms at a special rate of $135 until September 13. Regular rate is $169. No meals. Call 618-212-1300 to book and request the ROS rate.
In general, prices in Shiloh/O'Fallon are around $20 more per night than Fairview Heights.
FAIRVIEW HEIGHTS
Holiday Inn St. Louis -Fairview Heights - 313 Salem Pl, Fairview Heights, IL (618) 212-1300
Drury Inn & Suites St. Louis - Fairview Heights - 12 Ludwig Dr, Fairview Heights, IL (618) 398-8530
Hampton Inn - Fairview Heights - 150 Ludwig Dr, Fairview Heights, IL (618) 397-3275
SHILOH/O'FALLON
Drury Inn & Suites St. Louis - O'Fallon, IL - 1118 Central Park Dr, O'Fallon, IL (618) 624-2211
Holiday Inn Express & Suites - O'Fallon/Shiloh - 3396 Green Mount Crossing Dr, O'Fallon, IL (618) 589-0182
Hampton Inn O'Fallon - 430 Regency Park, O'Fallon, IL (618) 589-9006
Fairfield Inn & Suites by Marriott O'Fallon, IL - 1180 Central Park Dr, O'Fallon, IL (618) 206-8869
Questions?
Do you have any questions about the 2022 Reed Organ Society Gathering? Feel free to send us a message and we will get back to you as soon as we can!