Reed Organ Society Publication: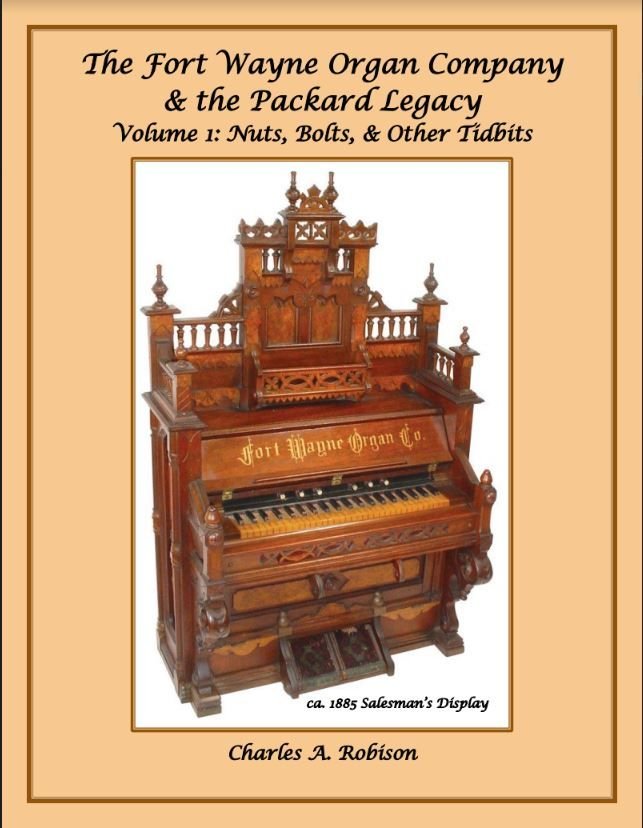 The Fort Wayne Organ Company & The Packard Legacy
Vol. 1: Nuts, Bolts, & Other Tidbits
This book is 322 pages with over 300 catalog cuts, photographs, and other illustrations, many in color. It covers the history of the company's organ production from 1871 – 1914. It includes chapters on the life of Isaac Packard, the organ's namesake; the company's organization; Thomas Hill, the case designer extraordinaire; stopboard designs through the years; an extensive data chart with serial numbers and design features; and more! Many pages from catalogs, flyers, and trade cards 1872 – 1912 are included!
Click on the link to see excerpts from the book!
All sales are being handled separately from the publications secretary. You can visit the ROS website and follow the links to the book to order a copy, paying through the PayPal link below specifically for the book. The book may also be ordered by sending a check to:

ROS
% Jim Germann
PO Box 218
La Vernia TX 78121-0218
USA
The cost of the book is $39. Shipping in the US is $5 media mail, Canada is $33.00 and overseas is $38.00. The PayPal link below includes the shipping in the price, be sure to click on the correct option.
Have a question? Email the author at packardorgan(at)gmail.com.