Reed Organ Manufacturers of Washington, New Jersey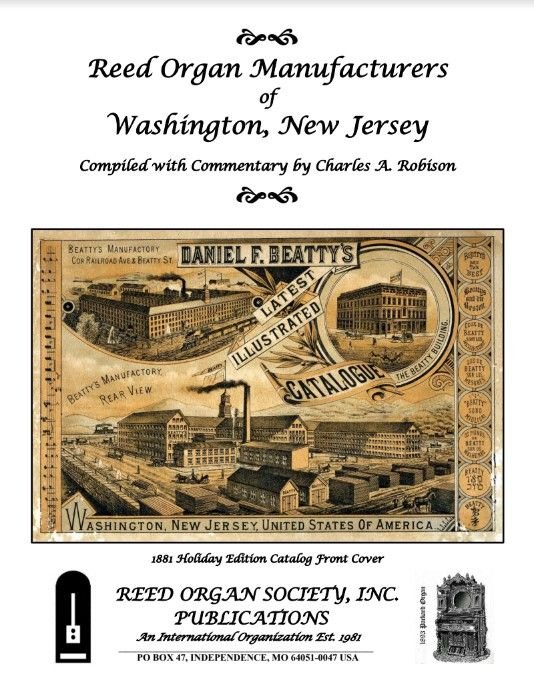 In the ROS Bulletin, Autumn 1993, Vol. XII, No. 3 & No. 4, ROS published a two-part series titled The Organ Industry in Washington, New Jersey written by Gerry Redell. Her well-researched material has been reprinted in this publication with additional material added to tell more of the story of the two principal companies: Beatty's Manufactory (later Beethoven Organ Company) and Cornish & Company. This book Reed Organ Manufacturers of Washington, New Jersey is 140 pages in length.
Part 1 – Focusing on Beatty and other less known companies, is reprinted in section one. It is followed by additional Beatty and Beethoven materials. Included is an extensive New York Times article published June 9, 1893, followed by original letters and advertising items. It is 94 pages in length.
Part 2 – Cornish & Company, is reprinted in section two with a packet of materials that would have been sent to prospective buyers in 1890. This section contains 46 pages. The book contains many illustrations, either black & white or in color as in the originals.
A free copy of the 1915 Cornish catalog is included with each order.
This volume sells for $25 postage paid in the United States, $36USD to Canada and $40USD overseas.
Payment may be made with the link below or by sending a check to:
Reed Organ Society
PO Box 218
La Vernia, TX 78121-0218
For full article, click here to view the PDF file.

If you have any questions, just ask the Publications Secretary Charlie Robison, at chuck99er(at)yahoo.com, or fill out the contact us form.